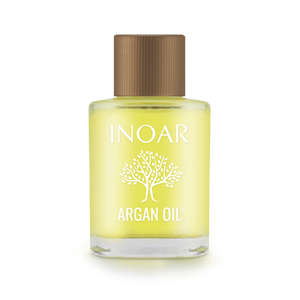 Inoar Argan Oil range contains 9% pure Argan and absorbs immediately and penetrates the hair & skin. With multiple benefits, this range really does do it all:
Anti-Ager for hair & skin;  Heat protector;  Promotes hair growth; Heals & rejuvenates hair;  Promotes long-term health & shine;  Hydrates & moisturize;  Puts natural oil back in your hair;  Eliminates frizz;  Reduces split ends; Regulates the hair & skin's pH level;  Eases itchiness of scalp; Natural remedy to treat damaged skin & inflammation; Protects, balances and & heals the scalp.
 All Inoar products are CRUELTY-FREE, VEGAN and SULPHATE FREE.